---
Available for Pre-Order: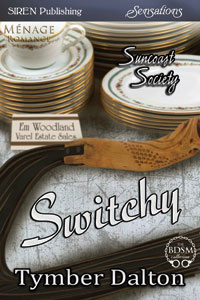 Now Available for Pre-Order: Switchy (Suncoast Society 34, MMF, BDSM) by Tymber Dalton:

http://www.bookstrand.com/book/switchy

Em Woodland's parents moved in with her three years ago, and it wasn't her idea. Her mother's meddling has killed Em's love life. After her busybody mom calls the cops on the two new guys next door, Em has apologies to make.

Jarred and Garrison are thirteen months into grieving the death of their love and Owner, Janis. Then Jarred inherits his uncle's house next door to single cutie, Em. They're willing to overlook her mom's antics for the welcome distraction Em brings to their life. As the three grow close, the men admit their desired dynamic to independent Em.

She's willing to try it. Two hot and sexy Alpha hunks at her beck and call? Yes, please!

But family drama and deadly close calls take Em over the edge and leave her unable to care for herself. Can she let go and let her two switchy men take the reins and prove to her that they want her for life?
Now Available: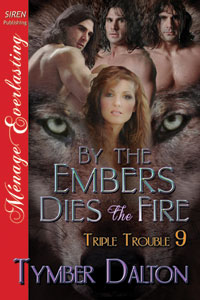 Now Available: By the Embers Dies the Fire (Triple Trouble 9, mfmm) by Tymber Dalton.

Growing up, Elain Lyall had always wished for a large family.

Be careful what you wish for. Especially when you have a seriously unhinged brother-in-law like Brighton, who's perilously close to unraveling everything Elain's trying to hold together. Uncle and mortal enemy, Marston, turns out to be a priceless ally.

Meanwhile, Elain's mates Ain, Brodey, and Cail, are enjoying fatherhood, even if they are putting a serious damper on Elain's Triad and Seer duties. Elain, Mai, and Lina are trying to figure out exactly how the cockatrice plan on detonating a nuclear bomb so they can stop it.

The devil's in the details—and Ryan Ausar is as clueless as they are. One thing's certain, the evil they're facing is far older and more dangerous than any of them ever dreamed. If Elain's going to save lives, she's going to have to get a handle on her rapidly growing powers.

Even if it means sacrificing someone for the greater good.
---
---
Latest Releases:
---
Coming Soon:
---
Click here for my latest blog posts and updates.
Click here to sign up for my newsletter! (No spam, just notifications when I add content to the website.)
---
Welcome to my home on the web! Yes, I have four different pen names. Many people are familiar with my Tymber Dalton pen name, but I also write as Lesli Richardson (my real name) and I have written a couple of books for Siren as Macy Largo and Tessa Monroe.
---
You can find links to all my books here on my site, including series reading orders. It's easier to have one site for all my pen names than to have them spread all over the place. 🙂
Hubby is a writer, too, and I have links to his books here as well (Jon Dalton and Haley Jordan).
---
My Pen Names:
---
Quick Links:
---
Social Media Links:
---
Looking for my books for free?
NOTE: Regarding "free" e-books — My books usually are NOT available for free. (If it is, believe me, I'd be telling you about it. Right now, only one is free, through the Siren-BookStrand app.) If you see one for free, or for sale on a site that's NOT listed on my spreadsheet of buy links, chances are it's an ILLEGAL COPY on an illegal file-sharing site. I'm NOT rich. I write to support my family. Please do NOT pirate my files, don't upload them, don't share them, don't get them from "free" sources. This is my livelihood. I don't go into your home and steal your stuff. This is how I pay my bills, with my writing. And to all my readers who legally obtain my books – thank you!
---
Charles Michael Segaloff  / Michael Makai Arrest & Trial Updates:
Last Case Update 04/02/2016: Defendant pled guilty to a lesser charge. Files uploaded to the blog page. Click here for the main blog post on the arrest and trial of BDSM author and previously convicted and registered sex offender Charles Michael Segaloff (aka Michael Makai and Mike Sage).
---
Special Release:
---
Latest Audiobook:
Try Audible and Get Two Free Audiobooks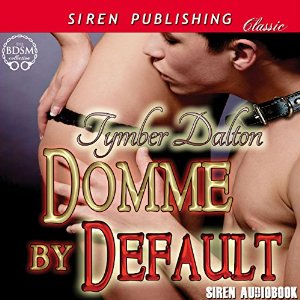 ---
Tutorials:
---
Hubby's Books: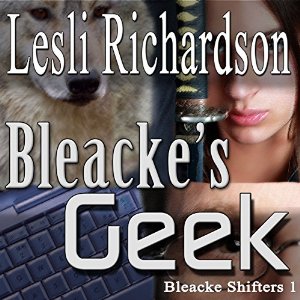 Fire and Ice (Triple Trouble Prequel):
Audiobook: Amazon | Audible | iTunes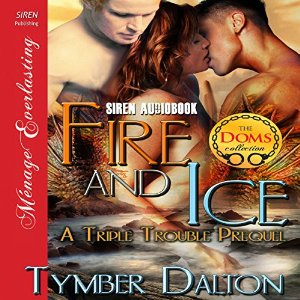 The Denim Dom (Suncoast Society 5):
Audiobook: Audible | Amazon | iTunes