Welcome to Tales From the Snark Side!
I actually have four pen names. Many people are familiar with my Tymber Dalton pen name, but I also write as Lesli Richardson and I have written books for Siren as Macy Largo and Tessa Monroe.
---
Click here for my latest blog posts and updates.
Click here to sign up for my newsletter! (No spam, just notifications when I add content to the website.) Make sure to look for the confirmation e-mail to complete the process.
---
You can find links to all my books here on my site, including series reading orders. It's easier to have one site for all my pen names than to have them spread all over the place. 🙂
Hubby is a writer, too, and I have links to his books here as well (Jon Dalton and Haley Jordan).
---
Available for Pre-Order:
Note: It takes 4-6 weeks for my Siren-BookStrand-published books to be released to third-party sites after their initial release on BookStrand. I have no control over that, that's up to my publisher. If you have a Kindle, you can order directly from Siren-BookStrand and have the file sent right to your device/app. If you have another kind of device, or read on a tablet, you can buy other format files from Siren-BookStrand and either download them or transfer them to your device. Nook | Kobo | iPad | BookStrand App via iTunes or Google Play for Android (Includes FREE books!)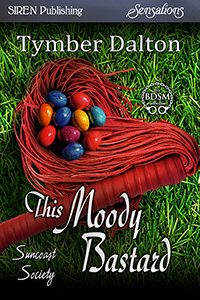 This Moody Bastard (Suncoast Society 50, MMF, BDSM) by Tymber Dalton

http://www.bookstrand.com/book/this-moody-bastard

Blurb:

Another holiday, another Suncoast Society party. What's troubling Cali, Sean, and Max? Can a kinky Easter egg hunt snap them out of it? As their friends gather once more, the triad puts on a united front and a happy face. While they remember to count their blessings, will the future finally come into clear focus?

Unicorn photo shoots, rainbow rope, and getting their cat, Baxter, stoned on catnip are all on the agenda. It doesn't hurt that they finally get to see karma in all its splendid glory giving them the good kind of cosmic payback for a change.

They know they're lucky. Now all they have to do is keep reminding themselves of that fact.
Newest Releases: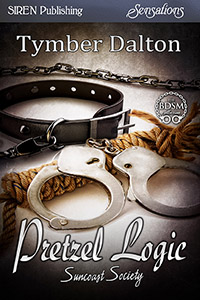 Pretzel Logic (Suncoast Society 49, MF, BDSM) by Tymber Dalton

http://www.bookstrand.com/book/pretzel-logic

Brita was a cop, until an on-duty injury while protecting a child forced her retirement. Now, her days are spent teaching firearms classes, shooting skeet, and doting on her young niece, Jordan. She knows her relationship with Ethan is for life, it's just a matter of forcing her brain to label it.

The moment Brita got shot is forever seared in Ethan's memory. She's the woman he loves, but he's no dumb Dom. He's patiently awaiting the day she can finally accept he's not going anywhere.

Then, an incident during a school outing, where Brita makes a split-second call to protect Jordan and her classmates, changes life forever. Legally and morally, Brita made the right decision. Unfortunately, the man's rabid fans paint a bulls-eye on Brita via Jordan. When Brita disappears in hope of protecting her family—and her and Ethan's secret lifestyle—he knows he has to find her. But first, he has to catch the bastards stalking her.

(These characters were first introduced in Happy Spank Patrick's Day.)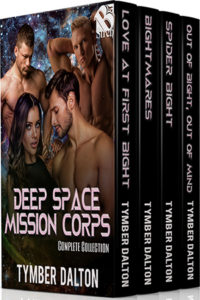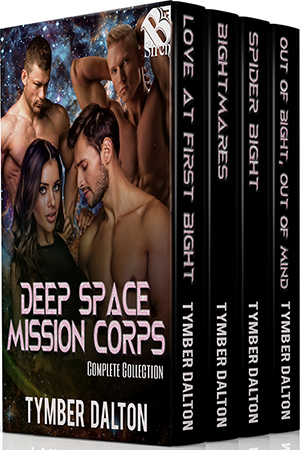 Deep Space Mission Corps box set. (This contains the first four books in the DSMC series. MMMF, sci-fi/futuristic, space opera)

http://www.bookstrand.com/book/deep-space-mission-corps-complete-collection
Love at First Bight
Bightmares
Spider Bight
Out of Bight, Out of Mind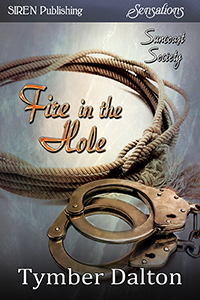 Fire in the Hole (Suncoast Society 48, MF, BDSM) by Tymber Dalton.

http://www.bookstrand.com/book/fire-in-the-hole

Blurb:

Is Lara's life complicated? Not really. On the evening of her divorce, she dumps her jerk fiancé while at dinner with him and her now ex-husband, Everett, and Everett's boyfriend, Wylie. That's where she meets their hunky neighbor, Brad, and his teenage son, Mark.

That's not complicated at allll.

Dr. Brad Jarred is well aware some people assume he's little more than a Florida Cracker cowboy, but he's actually an accomplished chemist running his family's ranch, all while being a single father. He loves Lara's spirit…and her strong will. She's exactly the kind of take-charge woman he's longed to meet and love. One thing's for certain—at least Everett and Wylie are rooting for a relationship to flourish between the couple.

Now that Lara has the kind of guy she's always wanted, can she be the woman Brad needs? More importantly, will Mark accept her in their lives? And why won't her whackadoodle ex fiancé leave her alone?

Note: This book is a direct sequel to Splendid Isolation.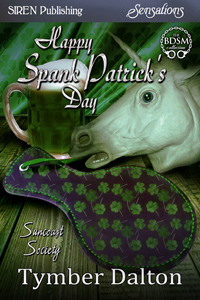 Happy Spank Patrick's Day (Suncoast Society 47, MMF, MMM, MM, MF, FF, BDSM) by Tymber Dalton:

http://www.bookstrand.com/book/happy-spank-patricks-day

Blurb:

[Siren Sensations: Erotic Consensual BDSM Ménage a Trois Romance, M/M, M/M/M, M/M/F, with some FF, sex toys, HEA]

Cali, Max, and Sean are hosting a kinky St. Patrick's Day party for the Suncoast Society. From unicorn shibari photo shoots to crazy party games, it's bound to be a wild night. Even if Cali's bondage-loving cat, Baxter, has been confined to a back room for the duration of the festivities.

Yet it's not all fun and games. Before the party even happens, tragedy overshadows the evening, driving home the point that life is short and uncertain, friends are everything, and each moment should be fully appreciated. It also brings a lingering, unsettled question back to the forefront for the triad.

For tonight, they've been asked to carry on, and that's what they'll do. But as the party plays out around them, will their future path finally solidify in their minds, or will it leave them with more doubts and questions than answers?

Note: This book contains double penetration.
---
---
Newest Releases:
---
---
Now on Third-Party Sites
---
Latest in Print
---
Try Audible and Get Two Free Audiobooks
---
 Quick Links:
---
Social Media Links:
---
Looking for my books for free?
NOTE: Regarding "free" e-books, trying to find my books to read online, or download — My books usually are NOT legally available for free. (If it is, believe me, I'd be telling you about it. Right now, only one is free, through the Siren-BookStrand app.) If you see one for free, or for sale on a site that's NOT listed on my spreadsheet of buy links, chances are it's an ILLEGAL COPY on an illegal file-sharing site. I'm NOT rich. I write to support my family. Please do NOT pirate my files, don't upload them, don't share them, don't get them from "free" sources. (Not to mention those file download sites are usually phishing scams or loaded with malware.) This is my livelihood. I don't go into your home and steal your stuff. This is how I pay my bills, with my writing. And to all my readers who legally obtain my books – thank you!
---