My Hubby isn't just the World's Best Husband(TM), he's also a fantastic writer in his own right, writing mysteries as Jon Dalton, and sweet romance as Haley Jordan. Now that he's retired, he's finally able to get back to work on his books.
---
Writing as Jon Dalton
Can't Dance Forever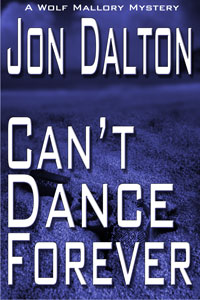 Wolf Mallory Mystery – 2
Hubby's next book is on preorder: Can't Dance Forever (A Wolf Mallory Mystery) [83.2k words, private detective, Florida mystery, suspense]
After a string of brutally gruesome murders shocks the normally sedate Porto Cielo area, Wolf Mallory is dragged into the search for a missing teen boy who's a suspected witness to a related crime.
A boy who is also the nephew of an assistant public defender, who now refuses to talk.
But when the violence touches those closest to Wolf, it becomes personal. He must call upon his secret past in order to see justice done. Can he find the mysterious Mr. Cold and bring an end to the killing spree before it's too late for the people he loves?
Kindle (US) | Kindle (UK) | Kindle (CA) | Kindle (AU)
Kindle (JP) | Kindle (IT) | Kindle (DE) | Kindle (MX)
Kindle (BR) | Kindle (IN) | Kindle (NL) | Kindle (ES) | Kindle (FR)

Nook | Kobo
---
Dancing On a Tightrope
Wolf Mallory Mystery – 1
Blurb:
Wolf Mallory already has his share of problems—including a congressional investigation and trying to figure out what to do with his life in southwest Florida after his forced retirement from military intelligence. When a friend asks him to talk to a young woman suspected of murder but claiming her innocence, Wolf has no idea what will happen.
Vicky Agincourt is smart, beautiful, and Wolf quickly finds she's likely guilty of nothing more than trusting the wrong people. Someone murdered her lover, but Wolf is convinced Vicky didn't pull the trigger. Unfortunately, well-connected people hiding along the fringes of the investigation have a lot to lose if Wolf succeeds in his mission to clear Vicky's name. They'll stop at nothing, including calling in favors from people in high places, to force Wolf off the scent.
But Wolf has friends of his own in low places. While he's dancing on a tightrope to stay ahead of the killer, can he clear Vicky's name in time before someone takes her—and him—out for good?
77k words
BUY LINKS:
Kindle (US) | Kindle (UK) | Kindle (CA) | Kindle (AU)
Kindle (JP) | Kindle (IT) | Kindle (DE) | Kindle (MX)
Kindle (BR) | Kindle (IN) | Kindle (NL) | Kindle (ES) | Kindle (FR)
Nook | Kobo
Print: Amazon | B&N | CreateSpace
---
Dancing Under the Mistletoe
Wolf Mallory Mystery 1.5
Blurb:
(short story)
Wolf Mallory thinks life is going to settle down now that he's proven Vicky wasn't guilty of murder. Unfortunately, Wolf's friend Vinnie volunteers him yet again to take a look at a case. And with the holidays approaching, Wolf gives in, hoping to bring a little closure to a murder victim's family. But when even the police don't have any leads, Wolf wonders how he's going to pull a Christmas miracle out of his bag of tricks.
7.6k words
Buy Links:
Amazon (US) | Amazon (UK) | Kindle (CA) | Kindle (AU)
Kindle (JP) | Kindle (IT) | Kindle (DE) | Kindle (MX)
Kindle (BR) | Kindle (IN) | Kindle (NL) | Kindle (ES) | Kindle (FR)
Nook | Kobo
---
Jack Daniels and Associates: Pina Colada Dead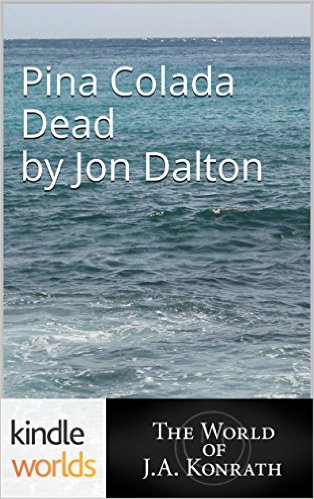 Blurb:
Sent on an unwanted vacation, Lt. Jack Daniels travels to Orlando to locate her mom's old friend, Eugene Boucher. However, the friend has left with unknown relatives, and the trail disappears in Sarasota, Florida. Making contact with Wolf Mallory, a retired Marine intelligence officer now working as a private investigator, Jack hires him to help locate Eugene's whereabouts. As each lead they uncover washes away like sand on a beach, the duo begin to fear the worse. Can Jack and Wolf find the unknown relatives and learn Eugene's fate?
Available only through Kindle Worlds
---
Writing as Haley Jordan
Candy Cane Kisses (Hubby writing as Haley Jordan)
Blurb:
Worst.
Christmas.
Ever.
Anne Baumann usually loves this time of year. There's nothing as cheery as Christmas in Venice, Florida. Unfortunately, her disastrous love life and dismal financial situation have turned her into a total humbug. And with her parents now living nearby and eager to celebrate their first Sunshine State Christmas, Anne finds herself forced to suck it up and pretend her world isn't about to implode.
She darn sure doesn't need the handsome but grumpilicious Dr. Jim Grant as a distraction.
Jim Grant lost his beloved wife three years earlier around Christmas, making it doubly heartbreaking. When he forces himself to attend the neighborhood block party, he certainly doesn't want to schmooze with the new neighbors' gorgeous daughter, Anne.
Except that he does.
Can an out-of-practice doctor and a headstrong, heartbroken woman find a Christmas miracle of their own? Might take something a little stronger than mistletoe…
[48.3k words, contemporary, MF, Christmas romance]
BUY LINKS:
---
Haunted Love
Kyra James is building a career as a TV journalist, but her boyfriend doesn't see it that way. When late-night Christmas Eve and New Year's Eve assignments derail her personal life, Kyra's photojournalist, Blake Archer, is there to console her. Can a ghost from Christmas past convince Kyra to adjust her focus and see that true love might be right by her side?
Kindle (US) | Kindle (UK) | Kindle (CA) | Kindle (AU)
Kindle (JP) | Kindle (IT) | Kindle (DE) | Kindle (MX)
Kindle (BR) | Kindle (IN) | Kindle (NL) | Kindle (ES) | Kindle (FR)
---
Other books Hubby has coming soon: