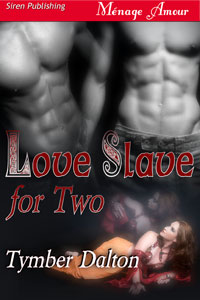 Love Slave for Two
Love Slave for Two 1
mmf, contemporary
Writing As: Tymber Dalton
Publisher: Siren-BookStrand
Buy Links:

http://www.bookstrand.com/love-slave-for-two
Kindle (US) | Kindle (UK) | Kindle (CA) | Kindle (AU)
Kindle (JP) | Kindle (IT) | Kindle (DE) | Kindle (MX)
Kindle (BR) | Kindle (IN) | Kindle (NL) | Kindle (ES) | Kindle (FR)
Audiobook: Amazon | Audible | iTunes
Blurb:
[Ménage Amour: Erotic Contemporary Ménage a Trois Romance, M/M/F, M/M, Consensual BDSM]
Nevvie Barton has never truly felt loved or like she belonged anywhere–ever. Abandoned by her adopted family and trapped in an abusive relationship, she takes a job with Tyler Paulson and Thomas Kinsey as their cleaning girl.
Nevvie knows her fantasies about "the boys" will always be just that–the two handsome men are devoted, loving life-partners. Then Tyler and Thomas fall in love with Nevvie and hatch a secret plan to seduce her and make her their permanent third.
For the first time in her life, she feels attractive and wanted. When they ask her to move in and be their personal assistant, Nevvie jumps at the chance. Her planned escape doesn't go without a hitch, and the boys must rescue her from a brutal man who would rather kill her than let her go.
Can Tyler and Thomas heal Nevvie's wounded body and soul and prove to her that she really is their dream come true?
Other books in the series:
1) Love Slave for Two: Beginnings (Prequel)
2) Love Slave for Two (Book 1)
3) Love Slave for Two: Family Matters (Book 2)
4) Love Slave for Two: Reunions (Book 3)
5) Love Slave for Two: Reckoning (Book 4)
6) Love Slave for Two: Resilience (Book 5) – Coming Soon
Related Books:
Ray, Oot, and kitten (from LSFT: Beginnings) also appear in Safe Harbor (Suncoast Society) and kitten's tale. Characters from Dead Moon Rising (originally writing as Macy Largo) appear in LSFT: Reunions.
Trivia:
This was my first erotic book published as Tymber Dalton with Siren-BookStrand. They'd already accepted my book Cross Country Chaos (as Lesli Richardson) and I submitted this to them and they loved it. I love this book, because it was a "fun" book I wrote after my grandmother's death to try to escape reality for a while. Originally, I never intended for it to be a series, but the characters kept talking to me. – Tymber.