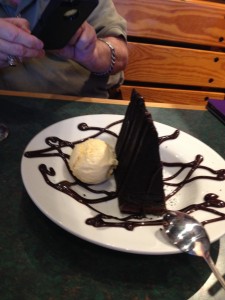 Hubby and I went out to Smokey Bones for his birthday lunch yesterday. He got a free Leaning Tower of Chocolate cake (should be called the Leaning Tower of Cardiac Arrest and Ass Fat cake…).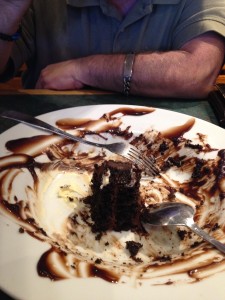 The cake was not a lie…but the cake, alas, won the battle. And yes, that was the before and after, with BOTH of us taking a crack at it.
Of course it was on top of a huge lunch, so…just sayin'.
So happy birthday to The World's Greatest Husband(TM). I couldn't do it without you, honey. 🙂 I love you.
I picked him up a copy of Fifty Shades of Chicken for his birthday. Both because he's been expanding his culinary talents, and I've been wanting the book because it's hysterical (friends got a copy and told me it was funny). There's also a What the F*@# Should I Make for Dinner?: The Answers to Life's Everyday Question (in 50 F*@#ing Recipes) cookbook I have my eye on, as well as The Snacking Dead: A Parody in a Cookbook…
Less than 24 hours until Things Made Right (Suncoast Society 16) goes live! (You can pre-order it…) And yesterday, both Click (Suncoast Society 17) and the Love Slave for Two bundle went on pre-order. Woot! 🙂 And Three Dog Night (Triple Trouble 3) is available in audiobook format now. 🙂
LATEST RELEASES: