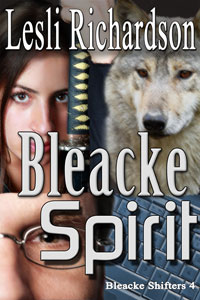 Bleacke Shifters – Book 4
(contemporary paranormal romance [wolf shifters], urban fantasy)
Dewi survived her frou-frou wedding and repelled an attack by a drug cartel, but now comes her greatest challenge—teaching her long-lost grandfather how to use a smartphone, all while dealing with…killer corgis.
Writing As: Lesli Richardson
Release Date: September 28, 2018
Pre-Order Links:
(Note: The link will take you to the Books2Read page listing all the vendors where it's currently available for pre-order. As it gets closer to release, more retailer links will appear on that page. Amazon will be one of the last pre-orders to appear closer to the release date. Thanks!)
books2read.com/LR-bleackeshifters4

Blurb:
Honestly, Dewi preferred fighting the Segura drug cartel to having a frou-frou wedding. But she's survived both with her sanity intact.
Barely.
That's due in no small part to Ken and Nami accidentally finding her grandfather, who everyone believed was dead for nearly fifty years. In addition to serving as the Targhee Pack's Head Enforcer, and head of the expanded Pack Council, Dewi's next challenging mission is trying to teach Duncan about safely navigating a whole new world.
Like texting. And Facebook.
And of course life is never easy for Dewi, Ken, Badger, Beck, Nami, and the rest of their extended family. So when Badger's old friend comes asking for the Targhee Pack's help, they can't turn him away.
Even if it brings a new and fuzzy foe into their lives when they're asked to help his loved one stay…incorgnito.
Who knew cute could be so deadly?