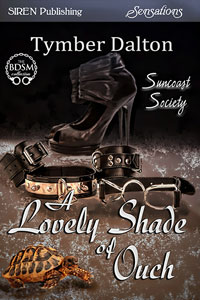 A Lovely Shade of Ouch
Suncoast Society – 11
mf, BDSM, MaleDom, FemDom, switches, toys, bondage, a really cute tortoise
Writing As: Tymber Dalton
Publisher: Siren-BookStrand
Release Date: 12/15/2014
Buy Links:

Kindle (US) | Kindle (UK)
Nook | Kobo | Google | iTunes
Blurb:
Abbey Rockland's life goes from bad to worse when she learns she needs back surgery the same day her long-term boyfriend dumps her, making her homeless. She can barely get around, much less move. Her friends express their concerns when she accepts Gilo's offer to let her and her beloved pet tortoise, George, move in with him.
John Gilomen admits focusing on Abbey is a way to avoid dealing with his grief over his best friend's death, but Abbey's a nice woman. His unrepentant SAM act at the BDSM club isn't the real him, just a way to blow off stress. He's always held feelings for Abbey, and he won't screw up his chance to finally show her.
But when life-threatening complications arise, John steps in and takes charge. Now Abbey has to decide what's more important—what everyone else thinks, or what her heart tells her about the man whose Dominant side only she has seen.
Note: This is Gilo's story, the SAM who gets Tilly's goat at several of the collaring ceremonies in other books in the series. 🙂