Suncoast Society – 74
(Contemporary BDSM, MMF)
Life's never boring with Max and Sean, but their latest antics spark a chain of events that's about to upend Cali's life in an unforeseeable way.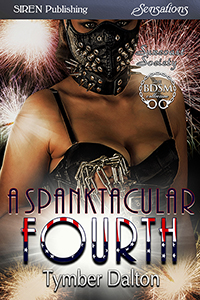 Writing As: Tymber Dalton
Publisher: Siren-BookStrand
Release Date: June 4, 2018
Buy Links:

http://www.bookstrand.com/book/a-spanktacular-fourth
Note: It takes up to 6 weeks for my Siren-BookStrand-published books to be released to third-party sites after their BookStrand release. I have no control over that, that's up to my publisher. If you have a Kindle, you can order directly from Siren-BookStrand and have the file sent right to your device/app. For other tablets/devices, you can buy other format files from Siren-BookStrand and either download them or transfer them to your device. Nook | Kobo | iPad.

Blurb:
Life's never boring with Max and Sean, but Cali wouldn't have them any other way. Still, it'd be nice if they both had two eyebrows and weren't trying to set each other on fire. Except when a routine evening volunteering at the club turns into anything but, it's just the start of a chain of events that will upend all their lives…and leave Cali fighting for hers.
Related Books: Crafty Bastards, Kinko de Mayo, Happy Spank Patrick's Day, This Moody Bastard, Happy Spanksgiving, Friends in Common, A Crafty Ever After