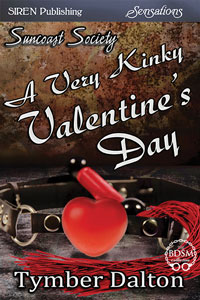 A Very Kinky Valentine's Day
Suncoast Society – 15
(various character pairings) mf, mfm, mmf, BDSM
Writing As: Tymber Dalton
Publisher: Siren-BookStrand
Release Date: 2/9/2015
Buy Links:

Kindle (US) | Kindle (UK) | Kindle (CA) | Kindle (AU)
Kindle (JP) | Kindle (IT) | Kindle (DE) | Kindle (MX)
Kindle (BR) | Kindle (IN) | Kindle (NL) | Kindle (ES) | Kindle (FR)

Nook | Kobo | Google | iTunes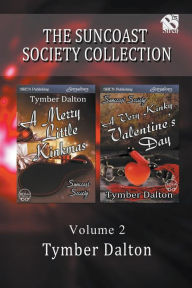 Print: (Note, it's collected in print as The Suncoast Society Collection, Vol. 2, with A Merry Little Kinkmas.)
Blurb:
Gilo and Abbey are hosting a Valentine's Day party for their fellow Suncoast Society kinksters, complete with a rope rigging contest. And when you put some competitive riggers together, you know it's going to get wild. Let the games begin! Have a voyeuristic visit with your favorite characters as they battle for bragging rights for the top rigging title. There might even be a surprise or two in store.
But the night's not without a little drama. And, for at least one set of characters, life will never be the same…