Okay, I'm putting the last touches on the holiday scavenger hunt I'll be running for my newsletter subscribers. Up for grabs? A chance to win a new 8gig Kindle Fire 7 tablet (inside the US) or $30 in StrandBucks from BookStrand (outside the US).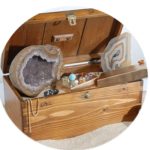 Why the difference? The Fire cost me $29.99 on Black Friday, and I don't want to risk sending it outside the US in case it won't work for you and you end up with a fancy brick, or you have to pay more in customs fees to claim it than it actually cost to buy it.
I'll be sending out the initial instructions this weekend and starting the hunt next Monday (12/18/17). Make SURE you're subscribed and whitelist tymberdalton AT gmail.com (minus the spaces and substitute the @ for AT) so you don't miss any of the clues!
No, I do NOT share my newsletter list with other authors. (I hate that shit, too.)
---