Just a quick note on a couple of titles.
Blues Beach (Suncoast Society 61, MF, BDSM) is now available on Kindle and will be coming to other third-party sites soon. This is Tracey's story, Brandon's ex-wife from Heartache Spoken Here, Roll With the Punches, and A Case of You.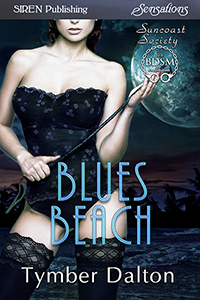 Tracey knows she's lucky. She has a chance to rebuild her life—and her relationship with her daughter, Emma—in a healthy way. But when she's forced to travel to California for a cousin's funeral, she dreads seeing her family and enduring the insults she knows will follow. Except…she didn't expect to rekindle something with her old boyfriend, Eric.
Widowed and with his dreams shattered, Eric easily recalls the love he's always held for Tracey. Whether this is a second chance or a one-time weekend to remember remains to be seen. Either way, he'll take the opportunity, no matter how short, to be with her.
But Emma isn't so trusting. And when another complication crops up, Tracey runs a very real risk of losing Emma a second time and that's something Eric will not allow Tracey to do.
So how do you woo a genius super-villain in training into liking you, much less accepting you as one of her "dads?"
http://www.bookstrand.com/book/blues-beach
Kindle (US) | Kindle (UK) | Kindle (CA) | Kindle (AU)
Kindle (JP) | Kindle (IT) | Kindle (DE) | Kindle (MX)
Kindle (BR) | Kindle (IN) | Kindle (NL) | Kindle (ES) | Kindle (FR)
New to Print
Four Suncoast Society titles are now available in print! (Two of them are combined in one volume.)
---
Don't forget to sign up for my e-mail newsletter! I'm going to be running a series of giveaways, including a Kindle Fire!
---
How do I find your books?
I have a spreadsheet of clickable LEGAL buy links for ALL my books under my various pen names, in the various formats (e-book, audio, and print) and arranged by series! (And Hubby's titles, too!) Bookmark it, because I update it all the time. 🙂
---
ICYMI:
Most Recent Releases/Coming Soon:
Now Available in Print:
Now in Audiobook:
Coming Soon | Spreadsheet of Buy Links | Series Info | Audiobooks
Facebook group Tymber's Trybe | My Facebook Page
Twitter | Instagram | Google+ | Pinterest
Tymber's Amazon Author Page | Lesli's Amazon Author Page
My Siren-BookStrand Author Page
Hubby's Amazon Author Page as Jon Dalton
Hubby's Amazon Author Page as Haley Jordan